Taking inspiration from farmhouses and country cottages, this interior design trend is set to be one of the most popular this winter.
Our noisy, polluted cities are enough to make any urbanite despair. But it's possible to inject rural charm into your city home; decorating your walls or switching up fabrics are easy ways to add a country feel. The extreme take on this style is known as 'cottagecore', a trend popularised by Gen Z in recent months that idealises a traditional rural life and older ways of living associated with it — cottagecore hobbies might include sewing, embroidery, pottery, baking, gardening and cooking with your own homegrown produce.
As a design aesthetic, found in fashion, homes, arts and crafts, it centres on simple and traditional style concepts that are often associated with a quiet countryside life. Think flowing dresses in floral prints, paintings of rolling countryside hills and homes designed with wooden furniture and woollen blankets, much as you'd expect in a farmhouse or cottage.
As one of the biggest interior design trends of 2021, set to grow ever more popular in the cold winter months ahead, this is how to bring a cosy cottagecore aesthetic into your home.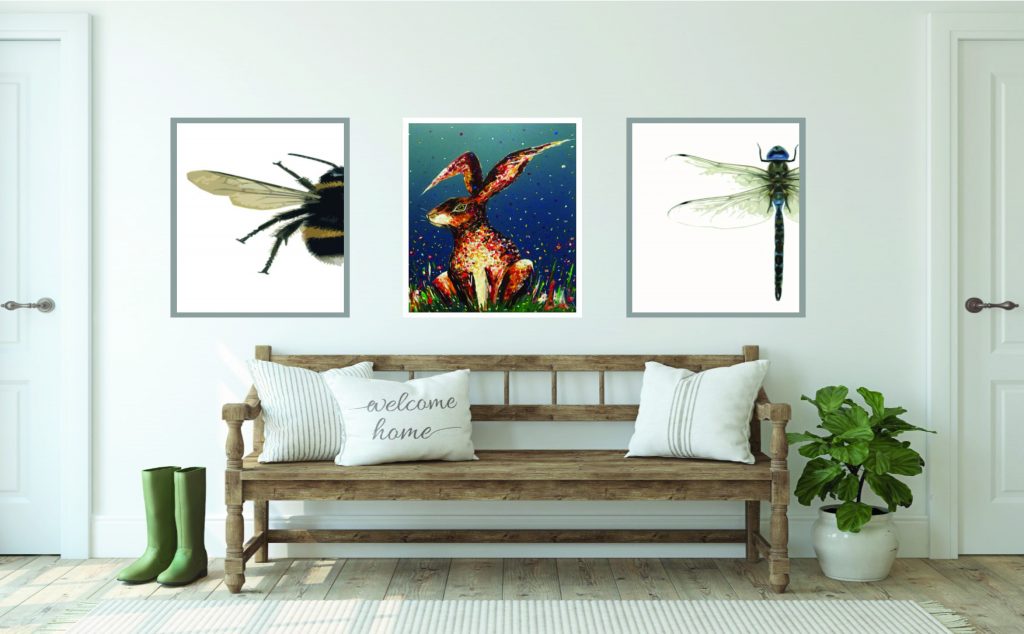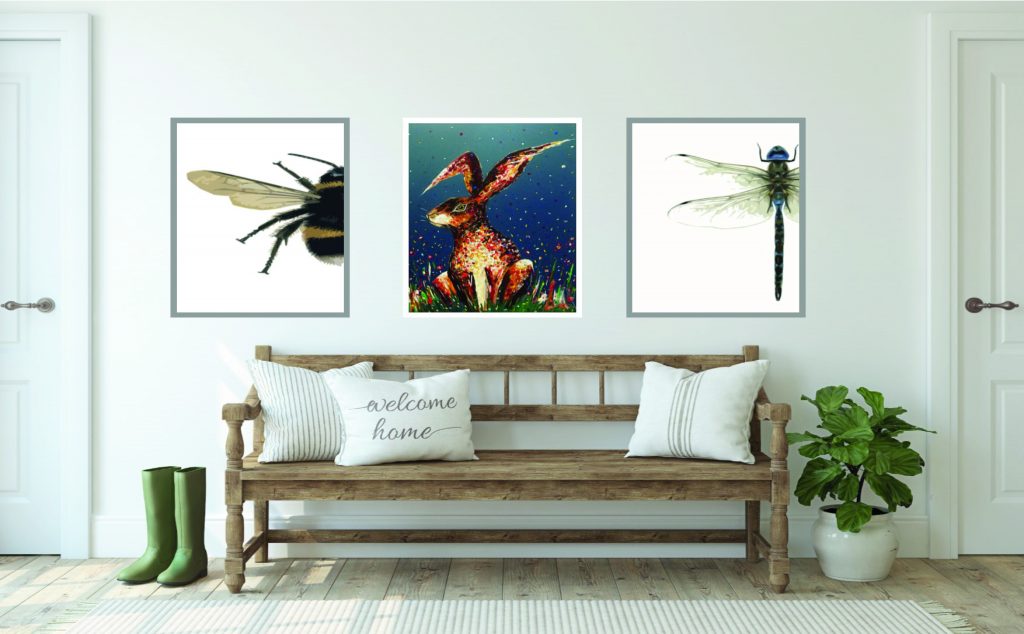 Strip out modern details
Try to keep screens, controls and other gadgets tidied away as much as possible and invest in well-made wood or metal items, rather than plastics, to add to the old-fashioned atmosphere.
Suspending light bulbs from an old wooden ladder is a simple but effective way to create atmosphere. Keep lighting warm and low using a variety of mix-and-match table lamps. This draws the eye into the room and adds interest. A quick pop of colour often ties in a theme and helps with the flow of the room.
Use traditional materials
Wooden items work well for a rural vibe and help to create warmth, too. Wine boxes used as shelving or indoor planters, and chunky reclaimed oak furniture are good ways to do this. Even if you warm your cockles by a radiator rather than an Aga or log-burner, the addition of a few stacked logs creates the feeling of farmhouse chic. Upcycled wooden items in pastel shades bring a contemporary cottage feel to your home, while decorative details like wrought-iron handles, doorknobs and hooks add elements of the traditional farmhouse.
A little book nook or cosy corner can be transformed with a selection of homewares, creating an area of calm in your home. If you have the space, why not create the look of a window seat in the hall by upcycling an old chest and adding some cushions to the top.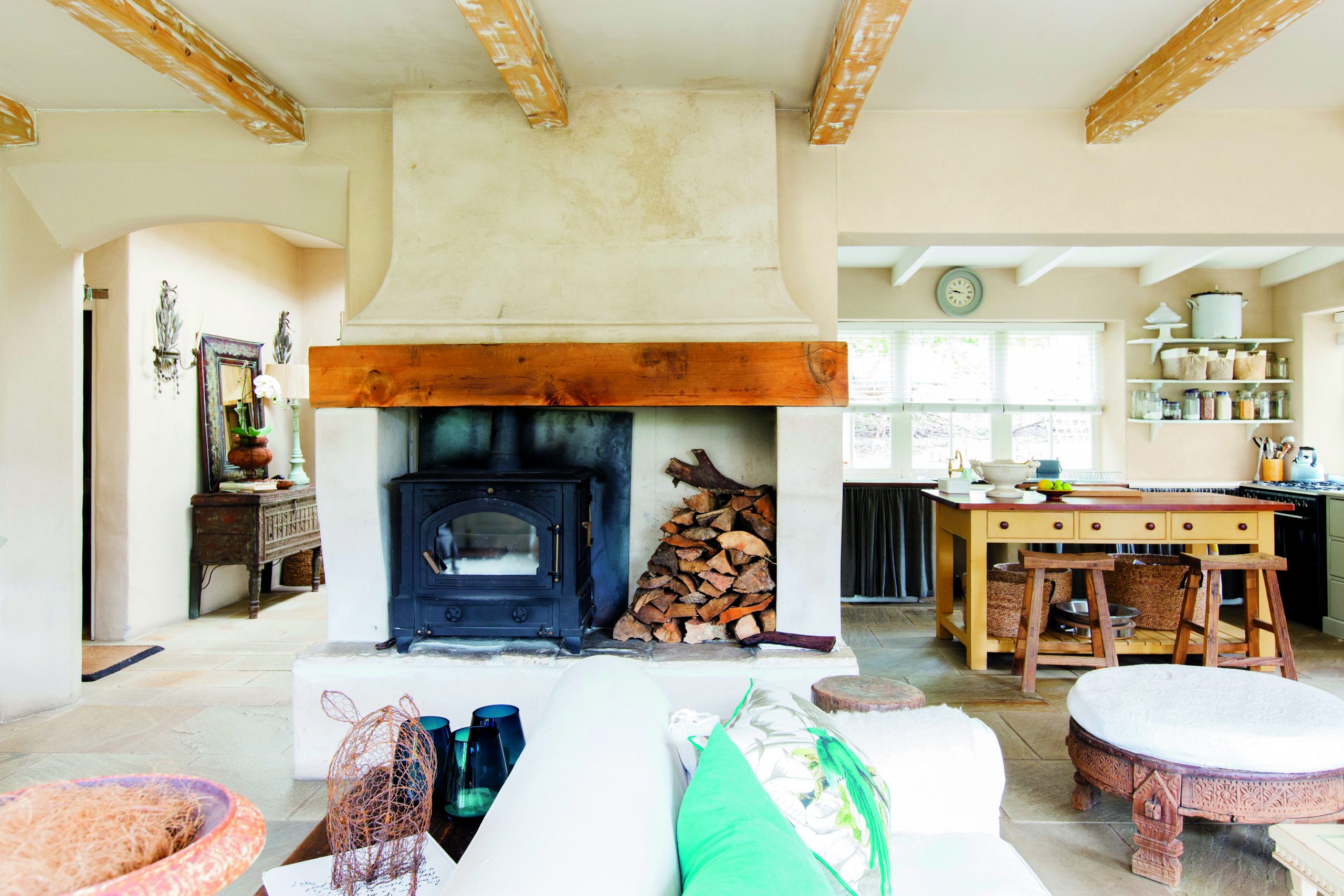 Invest in statement pieces of furniture
Buying a statement piece is another way of recreating a rural idyll. As well as being a practical choice, a leather sofa works for any style: contemporary or country. Darlings of Chelsea have a range with natural markings to give a well-worn effect. "Leather is a great material to translate into city living because it creates the cosy atmosphere that those in city apartments may crave," says founder John Darling.
According to Victoria Atkin, co-founder of Atkin and Thyme, "With one or two nods to the trend, you can create your own personal rural retreat. Countryside interiors can conjure up a chintzy visual, but the reality is much more contemporary." Victoria points to one of this year's top trends, a vibrant mustard colour, which works best on soft furnishings such as a statement armchair. "Pair with striking oversized florals to epitomise a country aesthetic with a modern edge."
Choose fabrics that make you feel cosy
Creating texture in your home is crucial for feeling cosy and relaxed. Large knitted throws, sheepskin rugs, blankets and footstools all help us to imagine ourselves in a snug farmhouse.
Designer Abigail Edward's creations are inspired by the countryside and coast, and her hand-drawn designs are available on wallpapers and fabrics. Dusk, from her Seascape fabric collection, features a delicate grey hue with white flowing lines echoing waves in a repeat pattern evoking an English coastline. Abigail explains: "By surrounding yourself with calming, gentle design, your home can turn into a tranquil escape to the countryside or coast."
Darren Marcangelo, co-founder of mattress company Herdysleep, advises adding throws to sofas and beds for an easy way to recreate relaxed holiday cottage style. "Accessorising with soft furnishings creates the ultimate countryside look. Adding natural textures not only takes centre stage, but also introduces elements of natural life into the home."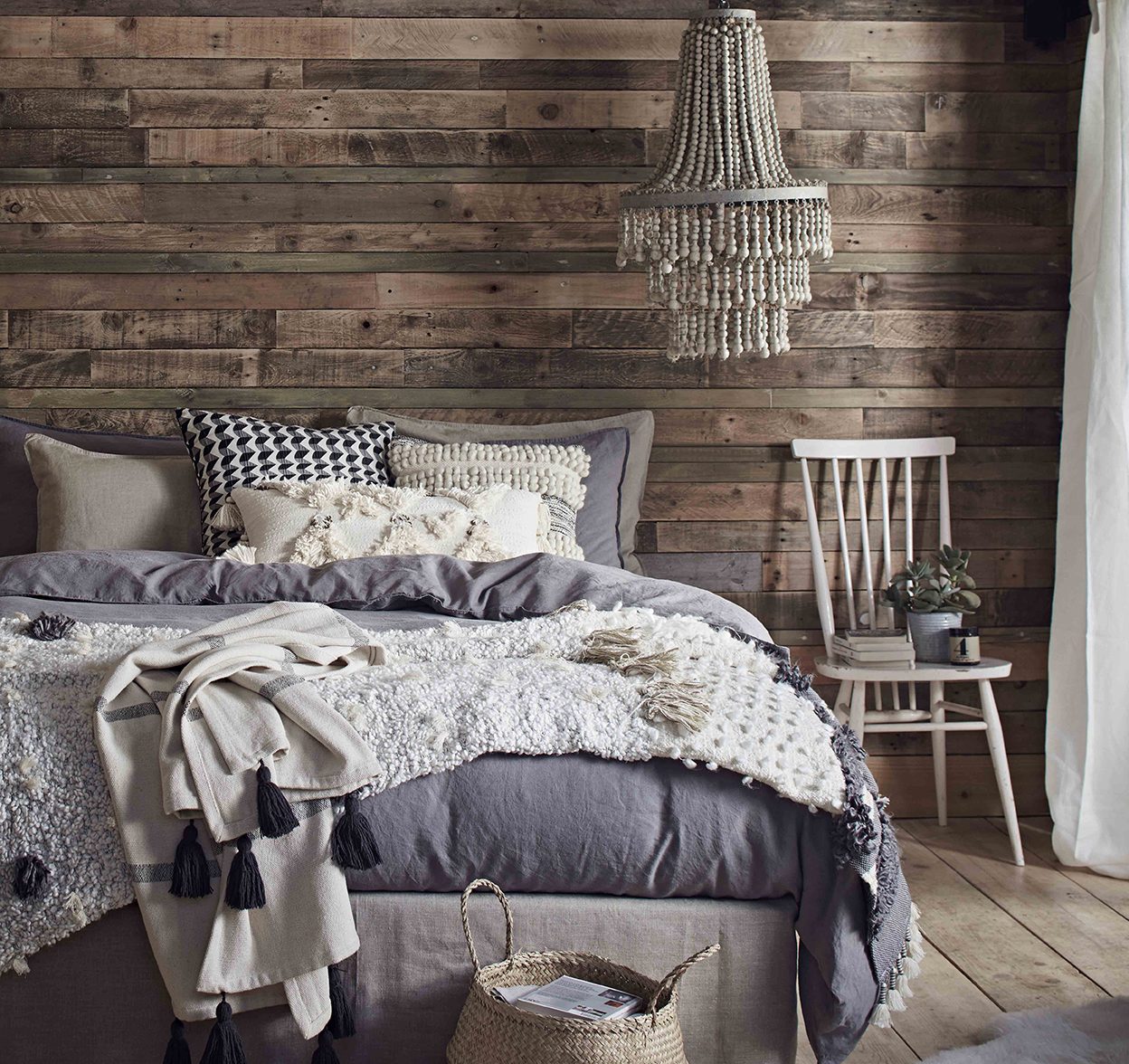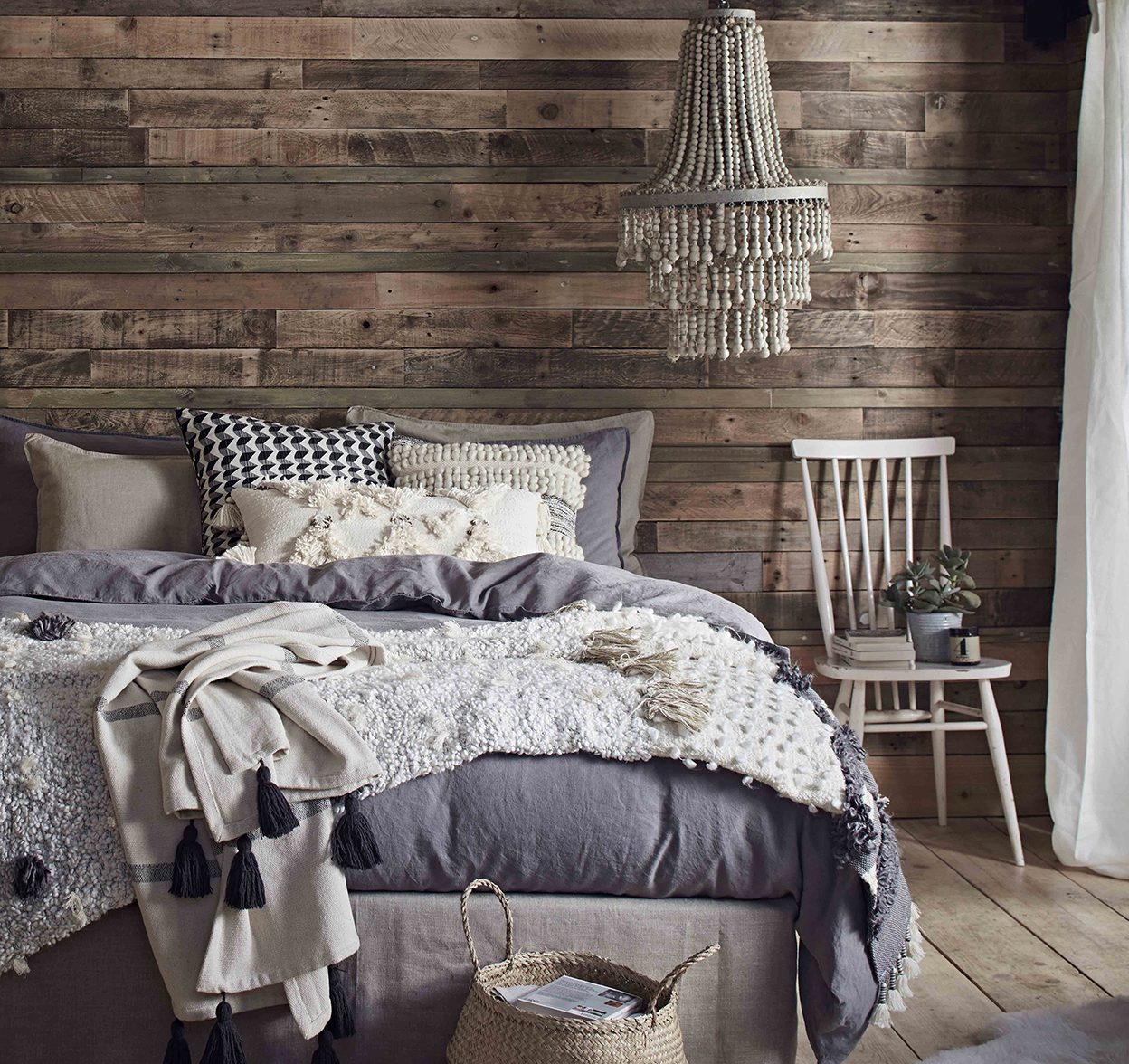 Bring the outdoors in
Never underestimate the power of a good print. How we decorate our walls isn't just a statement but a way to express and reflect the overall theme of a room. Countryside botanicals, nature and animal art all help to bring the outdoors in. Even if you look out on a cityscape, a beautiful landscape scene or farmland painting can help you to feel transported into those rolling hills. Designs including hares, stags and cattle are all very popular.
Adding lots of plants or flowers to a room will instantly create a cottage effect. A garden (or window box) can be created in an old pair of wellies, vintage bucket or wheelbarrow. Inside the home, an old teapot filled with sweet peas or a watering can used as a vase and can add a hint of the countryside without feeling too twee. However you choose to bring a touch of rustic to your home, remember the key to cottagecore is to personalise, texturise and add warmth at every opportunity. Search local flea markets, invest in independent makers and remember — you don't have to spend a fortune to get the farmhouse look.