The colourful effect achieved by church stained glass windows is now making its way into our homes, creating bold statement pieces and illuminated interiors.
Stained glass has a fascinating history, dating as far back as the Ancient Romans and Egyptians — there's evidence of both civilisations using coloured glass to create small objects. Later, it began to appear in religious buildings such as churches and monasteries, particularly in windows, forming narrative scenes that would be illuminated by the light pouring in, enhancing the feeling of spirituality.
It was in Victorian times that stained glass began to be incorporated in homes, to add a bit more character to the decor. Since then, it's often been associated with interiors with a period feel. But its use in more contemporary settings has been steadily growing. This is thanks, in part, to innovative designers who've been keen to rethink its potential, but also thanks to its versatility.
How can stained glass upgrade your space?
Stained glass can be customised to suit any kind of interior, and it's great for creating colourful focal points or making bold statements in otherwise neutral modern spaces.
Traditionally used in front doors, hallway windows and staircases, it can enhance the light to foyer spaces while retaining privacy. Today, most stained glass designs are inspired by abstract art, with motifs harking back to artists like Mondrian or movements like Bauhaus.
However, there are plenty of other rooms that could benefit from stained glass. On bathroom windows, it creates an interesting play of light and colour, and in shower screens, it adds a dash of neon or a quirky touch via playful images such as goldfish. Room dividers and sliding panels also work well with stained glass, bringing a more open, airy feel to a partitioned-off spaces.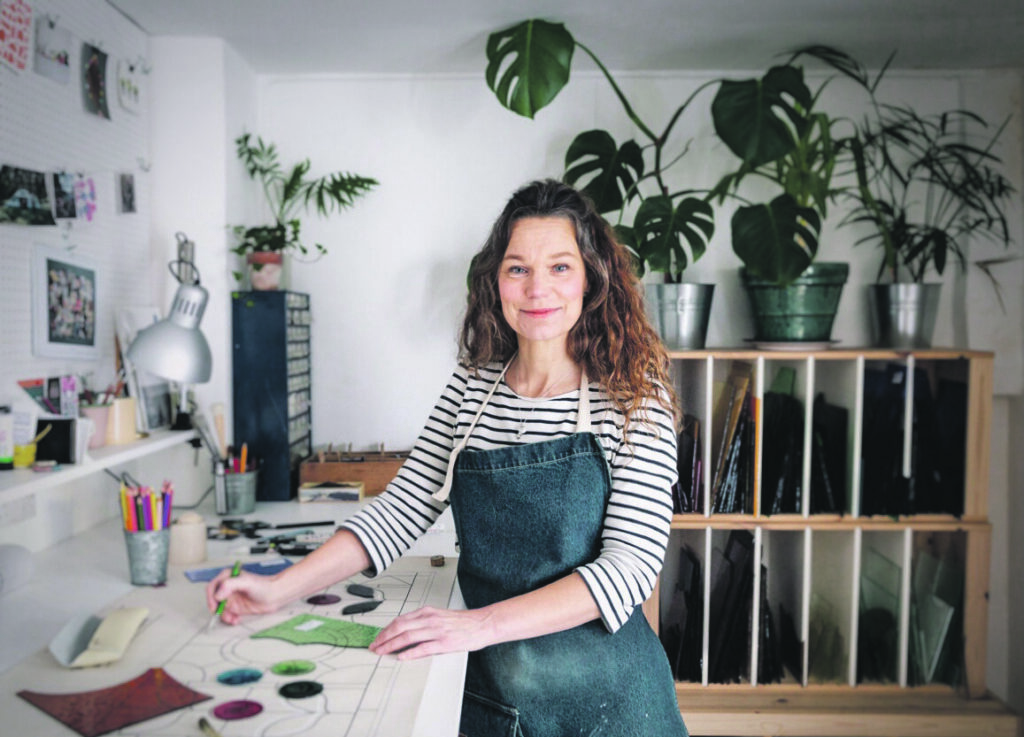 Bespoke or ready to order?
Stained glass can be bought both new and second-hand, with the former allowing you to personalise it. Stained glass artist Flora Jamieson says bespoke stained glass "adds a personal touch to a space, but it's also functional — screening unwanted views, providing privacy and bringing light and colour into dark areas. Bright, colourful stained glass always looks fabulous in elaborate, maximalist spaces, but unfussy, geometric window designs with simple colour palettes work equally well in minimalist interiors".
Flora cites an array of influences — including the natural world and folk art — behind her bespoke stained glass designs. "Past commissions have included windows to celebrate family or to remember a significant event or place," she says. "I like the challenge of creating a design that sits well with the style of the house. That's the thing about stained glass: it's part of the fabric of the building, so it has to work with the other architectural elements."
The downside is that this is generally far from a cheap option. An alternative is to source pre-loved stained glass windows or glass panels. As ever, eBay can be a good starting point — think stained glass panels featuring reproductions of artworks by the likes of Klimt or van Gogh, or handmade hanging panels and 'floating squares'.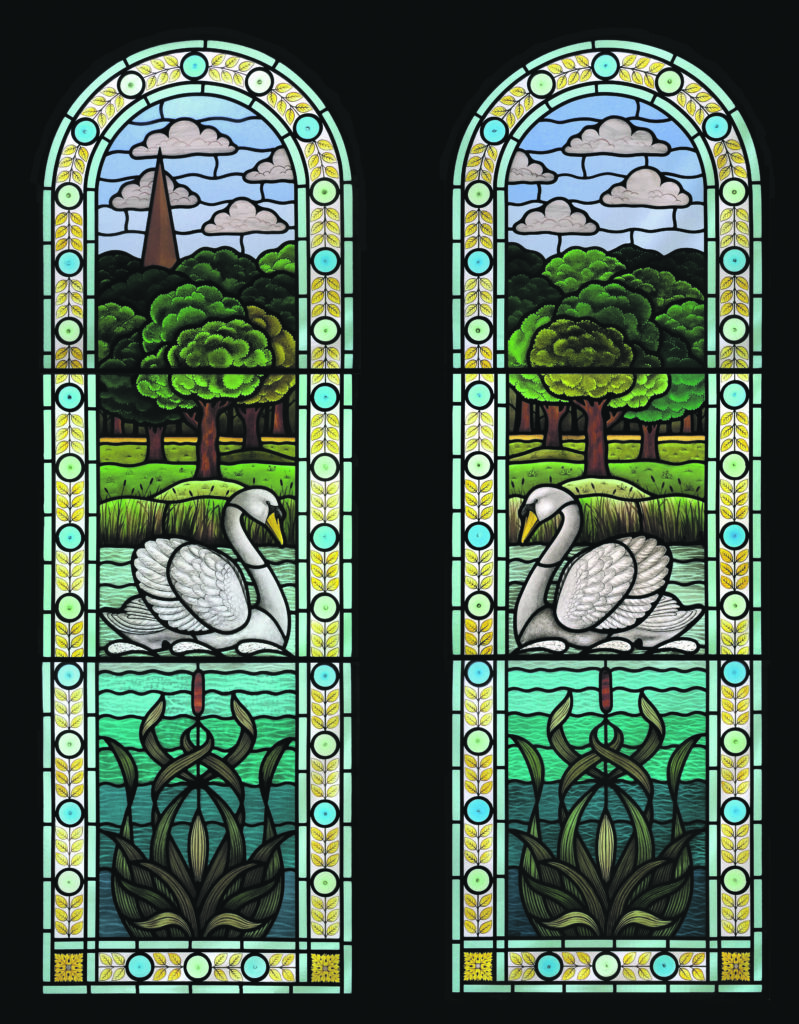 To get the stained glass effect on a budget, you can also try stick-on screening. Handmade/vintage/craft specialist Etsy can be a great source for this, selling frosted stained glass film for doors, kitchens and more.
Reclamation outlets such as Authentic Reclamation or English Salvage can be good places to find vintage stained glass, along with items that might work well in contemporary interiors, such as coloured glass tiles. Some of these have their own expert glass restorers who can rework pieces to fit particular openings.
Words by Rhonda Carrier
Main image: © Flora Jamieson